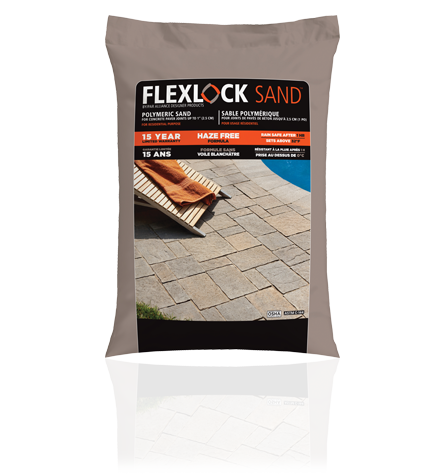 FlexLock Polymetric Sand
Regular price $26.08 Sale
FLEXLOCK SAND is a unique mixture of polymer binders and calibrated sand available in Sandy Beige and Graphite Grey. The installation of FLEXLOCK SAND is almost identical to using regular paver joint sand except for the application of water. Once FLEXLOCK SAND polymeric sand sets, it becomes very firm and locks between the paver joints while still retaining flexibility and providing a long lasting, durable jointing material. FLEXLOCK SAND is recommended for a variety of uses including pool decks, patios, footpaths, driveways, parking spaces, pavements etc.
Advanced Haze Free Technology
For Traditional application, rain safe 1 hour after water activation
Can be used for joints up to a maximum of 1″ (2.5 cm)
ASTM C-144 gradation of the polymeric sand allows use in even the tightest joints
OSHA silica crystalline compliant

 

(OSHA 29 CFR 1926.1153)
Works above 32°F (0°C)
Waterproof bags: Lay the bag flat on its back, so the front of the bag is facing you. Intact pallets can be stored outdoors.